In 1970, I learned what it was like to live aboard a Word War II submarine. About 80 officers and enlisted men served on USS Sabalo (SS 302), which was commissioned in 1945, just at the end of World War II. When I joined her in 1970, she was the oldest sub in the US Navy. Serving aboard was an experience in living history. Lots of oil and dirt, and no showers. But lots of fun (photo of USS Sabalo courtesy US Navy; other photos by author).
I joined Sabalo in Pearl Harbor, just in time for an eight-month West Pac (Western Pacific tour). I repaired motors, controllers in the submarine and stood watch as a lookout when we were surfaced, or as a helmsman or planesman when submerged. Also, I stood watch at "the sticks," which were big, gleaming levers that controlled the electric motors and generators.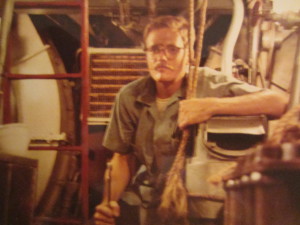 Enlisted men got one shower every week or so; we could take a sponge bath at a sink every three days. Our officers arranged for extra bunks to be built in, so everyone had his own bunk. My was in the after torpedo room. There were no rails to keep you from rolling out of the bunk, and in one storm I got flipped into the air when the sub hit a big wave on the surface.  I woke up about two feet from the deck. I and enjoyed shore leave at Thailand, The Republic of China, South Korea, Guam, Hawaii.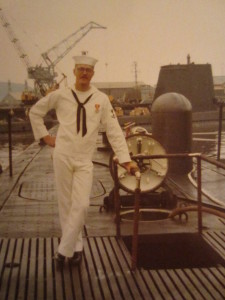 When at sea, the Captain would stop from time to time and we'd have swim call or grill hamburgers on deck.
I stood topside watch and shore patrol duty in ports like Yokosuka Japan and Manila Philippines.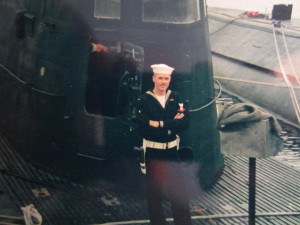 Further information about World War II submarines may be found at:
USS Sabalo information may be found at http://en.wikipedia.org/wiki/USS_Sabalo_(SS-302)
usssabalo.org is a website of USS Sabalo (SS 302) and includes the names of crew members, photos, and other information
U-505 at the Chicago Museum of Science is a full-size German submarine from World War II and is the same type featured in my novel, "Death in a Carolina Swamp" http://www.msichicago.org/whats-here/exhibits/u-505/
"Death in a Carolina Swamp" is my novel that features a German World War II submarine found deep in a swamp and is the source of mystery and death.  The German U-boat was built about the same time as my submarine, USS Sabalo. E-book and paperback are available at https://www.amazon.com/Death-Carolina-Swamp-Jonathan-Ross-ebook/dp/B01GIE0KIS/ref=sr_1_1?ie=UTF8&qid=1465663139&sr=8-1&keywords=death+in+a+carolina+swamp