Aphrodisiacs are part of my latest novel, "Scent of Death"
The word "aphrodisiac" comes from Aphrodite, the Greek goddess of love and sexuality. An aphrodisiac is a substance that stimulates or increases someone's sexual desire (also called "libido." A high libido means a high sexual desire).
The truth is, no one has developed a successful aphrodisiac. There are perfumes, there is Spanish fly, but none of these cast a spell of desire over someone within their range. People have tried for at least two thousand years to perfect an aphrodisiac. Ginseng is a purported aphrodisiac, shown below in bottles (photo courtesy of Wikipedia).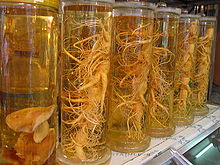 Other claimed aphrodisiacs are:
Saffron (Crocin)
Yohimbine (Pausinystalia Yohimbe and Indian Snakeroot)
Damiana (Tumera Diffusa)
Borojoa patinoi (Borojo)
Mannish Water
Cow Cod Soup
Phenylethylamine (PEA).
Viagra, Cialis, and Levitra are not aphrodisiacs. They can help males in the activity of sex, but they do not stimulate or increase a person's sexual desire.